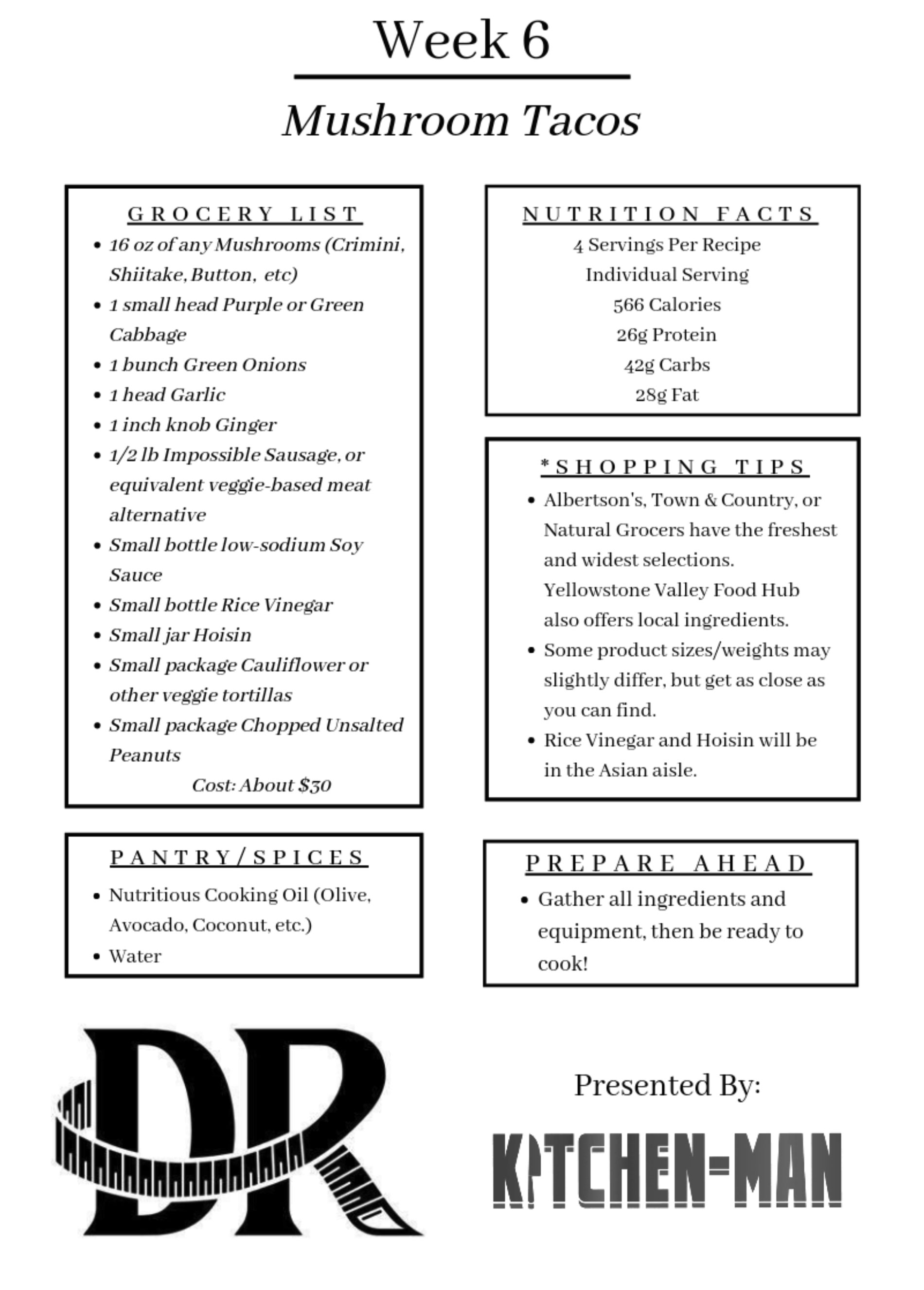 Mushroom Tacos (4 servings)
14oz Impossible Sausage
16oz Chopped Mushrooms and Stems
1 Small Head Green or Purple Cabbage
1 Tbsp Peeled and Chopped Ginger
5 Cloves Chopped Garlic
1 C Water
½ C Sliced Green Onions
2 Tbsp Low-Sodium Soy Sauce
3 Tbsp Rice Vinegar
2 Tbsp Hoisin
1 Tbsp Coconut Oil
2 Tbsp Peanuts (garnish)
8 ea Cauliflower Torillas
Before cooking, we will prep our vegetables. Start by washing and removing the stems of all Mushrooms and set them aside. Cut Mushrooms into ¼ inch slices. Then roughly chop the stems and combine them all into a bowl and set aside.
Cut Cabbage by cutting in half from the stem down, then quarter. Remove Cabbage stems by slicing them off once the Cabbage has been quartered. Slice Cabbage into thin strips and add to the bowl of Mushrooms and set aside.
Heat a large saute pan for 60 seconds over med-high heat and add 1 Tablespoon of Coconut Oil. Once hot, add the Impossible "Meat" and begin cooking and stirring every so often, until evenly browned.
While "Meat" is cooking peel skin off of Ginger then roughly chop Ginger and Garlic, and thinly slice Green Onions. Add all to bowl of Mushrooms and Cabbage and set aside.
Measure out 2 Tablespoons Soy Sauce, 3 Tablespoons Rice Vinegar, and 2 Tablespoons Hoisin and add all to a small bowl. Measure out 1 Cup of Water separately and set aside.
Once Impossible Meat is cooked, add the bowl of vegetables and the 1 Cup of water to the pan, stir, and cover to steam. Don't worry about the amount of food, it will shrink as it cooks.
Once Mushrooms and Cabbage have wilted and shrunk, add the small bowl of liquid seasonings and reduce heat to medium leaving uncovered.
Cook for about 5 minutes, then remove from heat.
Warm 2 tortillas for each person either in the oven or the microwave, scoop about 1 Cup of the meat/veggie mix into each tortilla, then top with crushed Peanuts and leftover Green Onions. Enjoy!