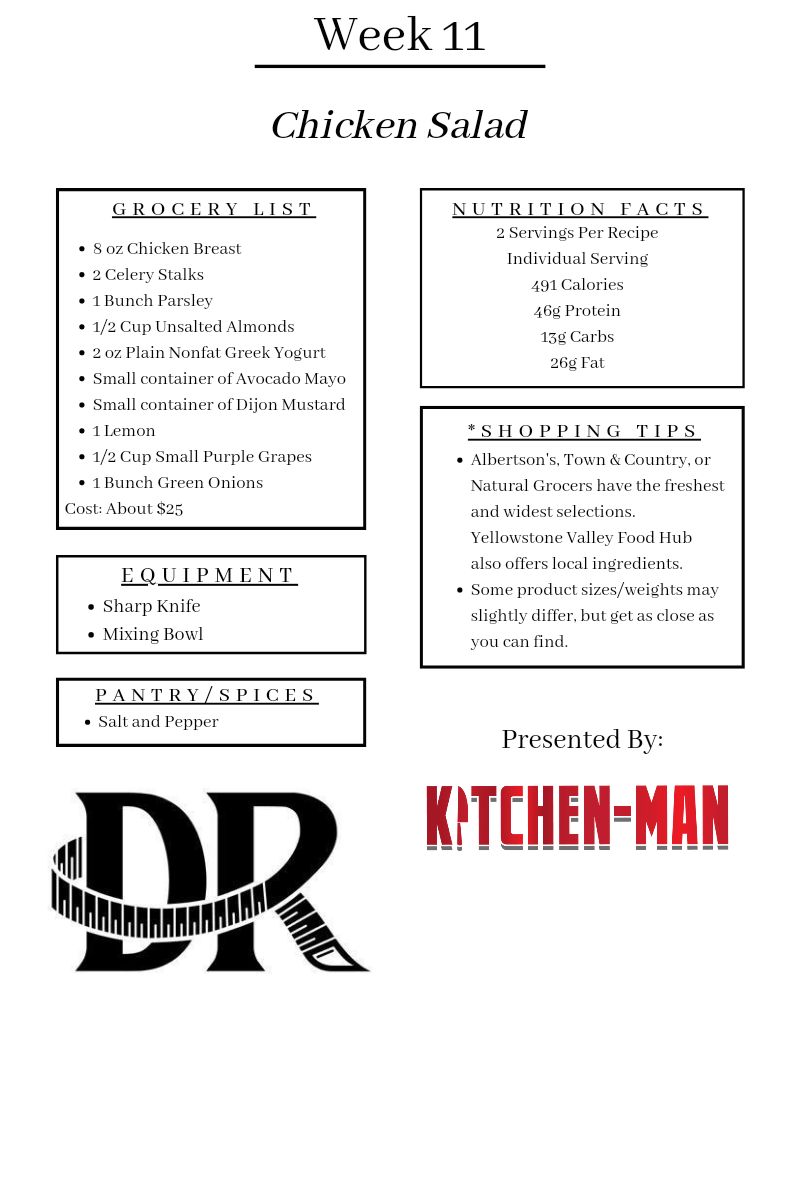 Chicken Salad
8 oz Chicken Breast
2 Stalks of Celery
3 Tbsp Chopped Parsley, save the rest for seasoning the chicken
½ Cup Whole Grapes
¼ Cup Sliced Green Onions
1 Lemon, cut in half
½ Cup Chopped Unsalted Almonds
¼ Cup Plain Nonfat Greek Yogurt
2 Tbsp Avocado Mayo
1 tsp Dijon
¼ tsp Salt
¼ tsp Black Pepper
Before preparing our salad, we will need to fully cook the Chicken Breast. You can do this any way you would like, but I will describe the poaching method. If you have a large Chicken Breast, cut it in half and place it into a medium pot. Cover the Chicken with water and add half of the lemon to the water, as well as a few stalks of parsley. Turn the heat to medium-high and bring the water to a simmer. Once simmering, reduce heat to medium and continue cooking for 10 to 15 minutes, or until chicken reaches 165 degrees. Remove Chicken from the water and place onto a plate in the refrigerator to cool.
While the chicken is cooking and cooling, we will prepare the vegetables. Start by cutting the Celery into thinner sticks, then dicing into small pieces and add them to a mixing bowl.
Remove a small handful of tops from the Parsley and give it a rough chop, then add 3 Tbsp to the bowl.
If you purchased whole Almonds, carefully chop them into ½ cup of finer pieces with your knife, or mash them with a bowl. You can also pulse them in a food processor if you wish. If you purchased already chopped Almonds, simply add ½ cup to the bowl.
Add ½ cup of Whole Grapes to the bowl as well. If you wish to cut them in half instead, feel free. I prefer the "pop" of Whole Grapes in my Chicken Salad, but the choice is yours.
Slice ¼ cup of Green Onions by starting at the green end and making very thin slices until your reach the thick white end. Discard the white ends and add the sliced Green Onions to the bowl.
Add ¼ cup Greek Yogurt, 2 Tbsp Avocado Mayo, and 1 tsp of Dijon to the bowl.
At this point, the Chicken should be cooled. Dice the Chicken into ¼ inch chunks and add them to the bowl.
Squeeze the other half of the Lemon into a smaller bowl, remove any seeds that may have fallen in and add the juice to the salad bowl. Then season everything with a pinch of Salt and Pepper.
Use a rubber spatula or spoon to mix everything together, making sure to incorporate all of the "saucy" ingredients as well. Once you have everything evenly distributed and mixed together, you can eat it as is, or add it to salads, sandwiches, or wraps! Keep in mind, the Nutrition Facts only cover this recipe, so be sure to account for any added ingredients like bread or tortillas. Enjoy!