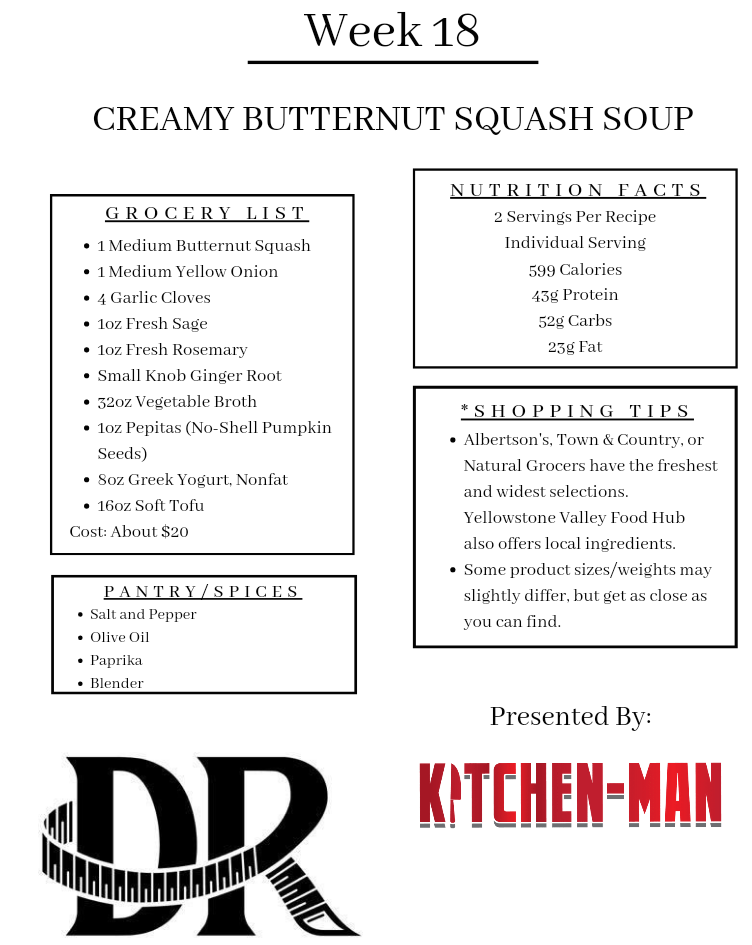 Creamy Butternut Squash Soup
1 Medium Butternut Squash (4 cups diced)
1 Medium Yellow Onion
4 ea Garlic Cloves
1 Tbsp Sage, preferably fresh but dried is ok
½ Tbsp Rosemary, preferably fresh but dried is ok
1 tsp Ginger Root or Ginger Paste
3-4 Cups Vegetable Broth
16 oz Soft Tofu
2 tsp Salt
1 tsp Paprika
1 Cup Greek Yogurt, nonfat
2 Tbsp Pepitas, or Pumpkin Seeds with no shells
Start by removing the ends of the Squash and peeling all the thick skin off until all you see is the vibrant orange inside. Cut the Squash in half lengthwise, then scoop out the seeds and "guts" with a spoon. Dice the squash into ½ inch cubes. Heat a large soup pot over medium heat and add 1 tsp of Olive Oil (opt.). Add diced Squash to the pot and begin cooking.
While Squash cooks, cut the Onion into large dices, then add to the pot as well. Also add the 4 whole Garlic Cloves. Because this recipe involves blending, there is no need to cut the smaller ingredients. If you'd like, give the Sage and Rosemary a rough chop and add to the pot.
Peel the Ginger, if you're using whole Ginger, then roughly chop to measure out 1 tsp and add to the pot. If you prefer Ginger Paste, just measure 1 tsp and add it to the pot.
Allow all the ingredients to cook together for about 5-10 minutes or until Squash is semi-soft, to bring out all the best flavor.
Open the Tofu and drain any excess liquid. Add the Tofu and Vegetable Broth and bring to a simmer. Because the Tofu is soft, you won't need to cut it, just mash it up into smaller pieces with the spoon or spatula while it cooks. Allow the pot to simmer for about 5 minutes to cook everything soft enough to blend.
Once everything in the pot is cooked and soft, add the hot soup to the blender, in batches if necessary, and blend until smooth. Pour the soup into a large bowl and season with 2 tsp of Salt and 1 tsp of Paprika. Then whisk in the Greek Yogurt until smooth and lighter in color. The Yogurt is mostly to help with acidity and texture, so it can be optional how much you add, just try not to exceed 1 cup or the calories will be over 600 per serving.
Divided the soup into 2 bowls, then garnish each bowl with 1 Tbsp of Pepitas and enjoy!