Protein Packed Mac 'N' Cheese
(And yes, it really is this good for you!)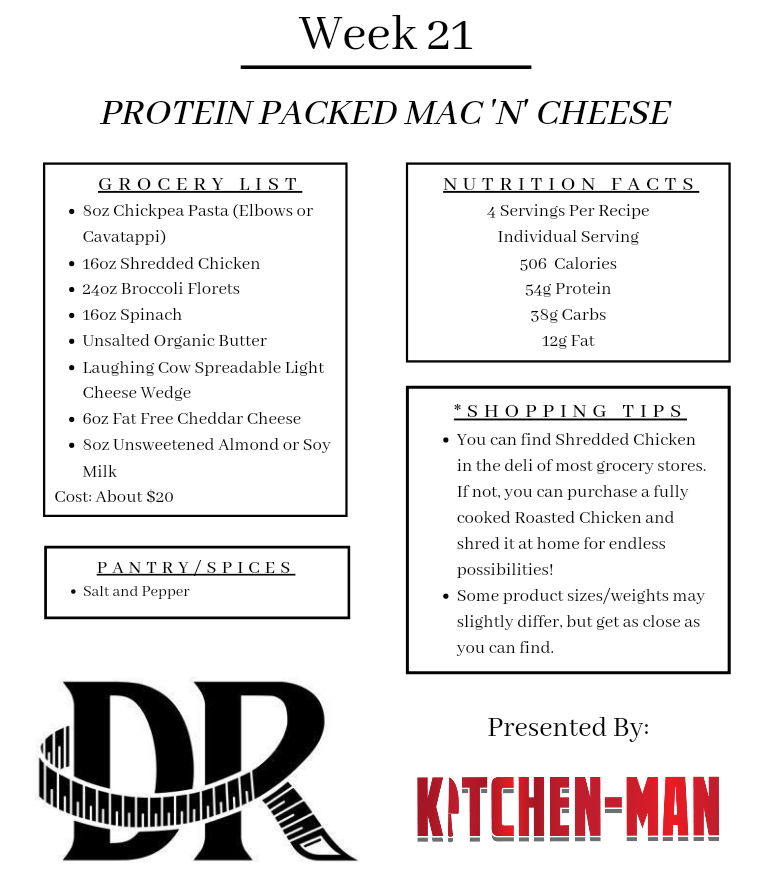 8 oz Chickpea Elbows or Cavatappi Pasta
4 Cups Chopped Broccoli Florets
2 Cups Chopped Spinach
1 ½ oz Laughing Cow Light Cheese (2 small wedges)
1 ½ Cups Fat Free Cheddar Cheese
1 Cup Unsweetened Almond Milk or Soy Milk
1 Tbsp Unsalted Organic Butter
16 oz Shredded Chicken
Start by bringing a large pot of water to a boil over high heat. While water is heating up, remove any large stems from the Broccoli and trim any large florets so they are all about the same size, and set them aside for now. You can also chop the Spinach at this stage and set aside until near the end.
Once water is boiling, add the Chickpea Pasta and set a timer for 8 minutes. Slowly stir the pasta for the first 30 seconds to prevent it from sticking to the bottom. After 4 minutes, add the Broccoli to the pot with the pasta, then continue cooking for the remaining 4 minutes. Check the pasta for doneness to your preference then pour Broccoli and Pasta into a strainer.
Using the same pot, over medium-low heat, add the Butter, Almond Milk, and a pinch of Salt and Pepper. Once Butter is melted, add the Pasta, Broccoli, 2 Cheese Wedges, and Shredded Cheese, then stir until the Cheese begins to melt.
Once, the Cheese is nice and melty add the Spinach and stir until it begins to wilt. At this point, you can either add the Shredded Chicken directly to the pot and mix it in, or you can choose to top each bowl instead.
Divide the finished Mac 'N' Cheese into 4 bowls, then top each with 4oz of Chicken, if you did not add it to the pot. At only 506 Calories, you have a little wiggle room to garnish your dish with things like Fresh Parsley, Parmesan, or even some Breadcrumbs! Just make sure not to go overboard with the toppings and enjoy!