Chicken Pot "Pie"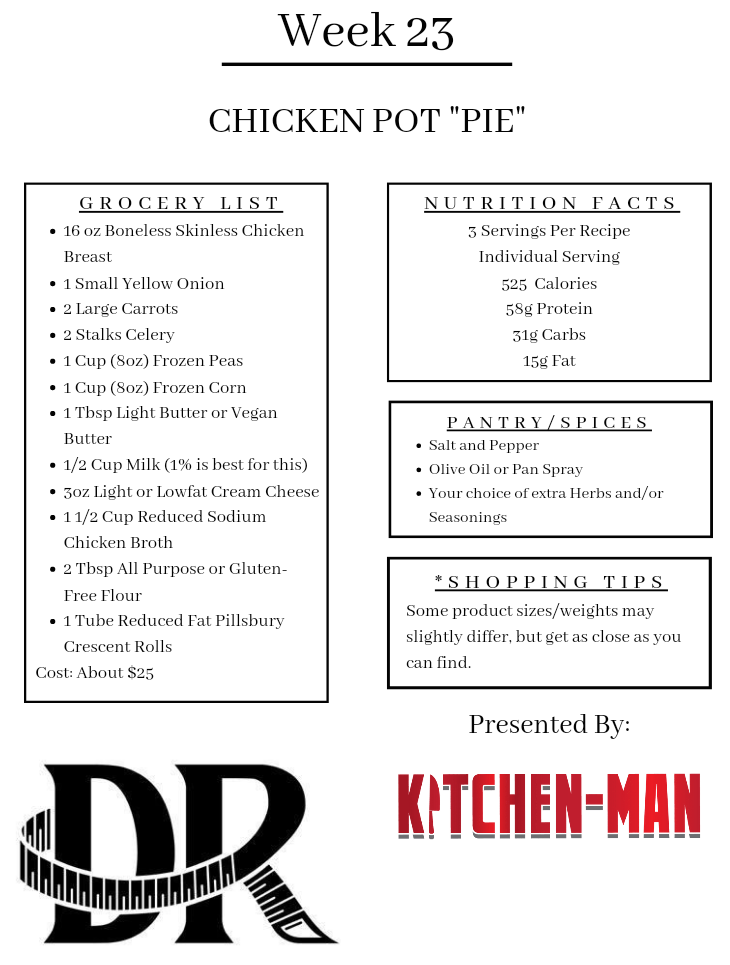 16oz Boneless Skinless Chicken Breast
1 Can Reduced Fat Pillsbury Crescent Rolls
1 Tbsp Light Unsalted Butter
2 Tbsp Minced Garlic Cloves
½ Cup Diced Yellow Onion
1 Cup Diced Carrots
1 Cup Diced Celery
1 Cup Frozen Peas
1 Cup Frozen Corn
½ Cup 1% Milk
3oz Light or Low-Fat Cream Cheese
2 Tbsp All Purpose Flour
1 ½ Cups Low Sodium Chicken Broth
Salt and Pepper to taste
Preheat oven to 425 degrees. Place Chicken Breasts into a lightly oiled baking pan or dish. Season each Breast with a pinch of Salt and Pepper. Place pan in oven and cook for 25-30 minutes, or until Chicken is fully cooked to 165 degrees internally.
While Chicken is cooking, prepare the vegetable gravy by dicing all of the fresh vegetables into ¼ inch pieces. Measure out the correct amount of Garlic, Onion, Celery, and Carrots, then place them all into a bowl.
Melt the Butter over medium-high heat in a large sautee pan. Once Butter is melted, add the bowl of diced vegetables to the pan and cook for 5-7 minutes or until tender.
Once the fresh veggies have softened, add a pinch of Salt, Pepper, and any other seasonings you wish to use. (I recommend Garlic Powder, Onion Powder, and some Fresh Herbs, but the flavor is up to you.)
Add the Flour to the Vegetables and stir it in, cooking for about 1 minute. Then add the Chicken Broth, stir it in, then allow it to come to a boil. Once boiling, reduce heat to medium and cook for 5 minutes to thicken it into a Gravy consistency.
At this point, the Chicken should be just about done. Remove it from the oven if it is fully cooked and allow it to rest for a few minutes. Turn oven down to 375 degrees.
While the Chicken is resting, add the Milk and Cream Cheese to the Gravy filling and stir it in over medium-low heat. Open the Crescents, roll them up, then place them on a sheet pan with parchment, if available. Bake them in the oven for 11-13 minutes.
Cut the Chicken into small cubes then add it to the Gravy. Also, add the Peas, Corn, and a pinch of Salt and Pepper. Let it simmer until the Crescents are finished.
Once Crescents are done, scoop some of the Pot Pie Filling into a bowl or over the top of a Crescent Roll. You can also eat it like soup and use the Crescent as a dipper, topper, or cube it up and stir it in. This is a fun and simple twist on Chicken Pot Pie, so enjoy it any way you like!