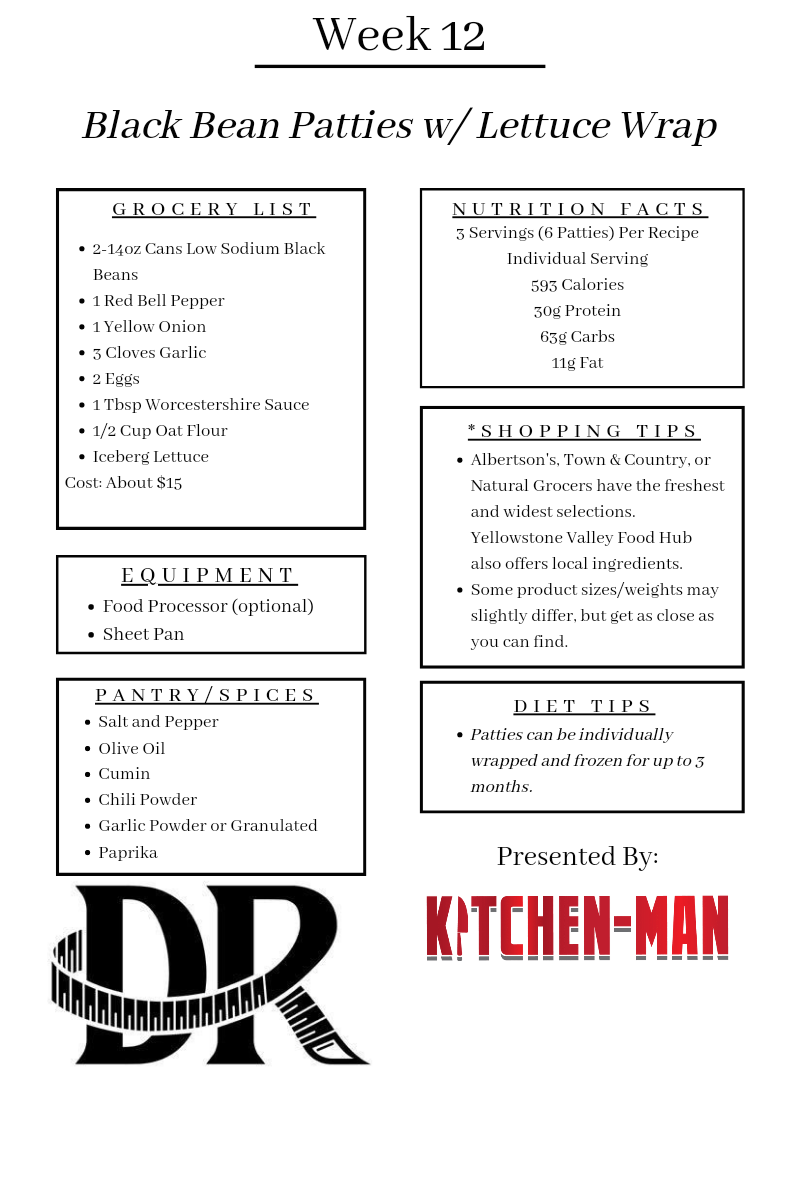 Black Bean Patties
28oz Canned No/Low Sodium Black Beans
1 ea Red Bell Pepper, diced
1 ea Small Yellow Onion, diced
3 ea Garlic Cloves
2 ea Whole Eggs
½ C Oat Flour
1 Tbsp Worcestershire Sauce
1 Tbsp Olive Oil
1 tsp Cumin
1 tsp Chili Powder
1 tsp Garlic Powder
1 tsp Paprika
1 tsp Salt
1 tsp Black Pepper
8 ea Iceberg Lettuce Leaves, for lettuce wrap
Preheat oven to 325 degrees. Drain and rinse Black Beans, then pat dry with a paper towel. Spread Beans on a baking sheet and bake for 10-15 minutes until slightly dried out.
Chop Red Bell Pepper by removing the stem, seeds, and pith, then cut into small dices and add to a bowl.
Remove both ends and outer layer of onion, then cut in half through the ends. Dice Onion into small pieces then add to the bowl with the Bell Pepper.
Roughly chop 3 Garlic Cloves, then add to the bowl.
Heat 1 Tbsp Olive Oil in a medium saute pan, then cook Onion, Pepper, and Garlic for about 5-6 minutes until soft and translucent. Add Cumin, Chili Powder, Garlic Powder, Paprika, Salt, and Pepper and stir until all veggies are coated.
Transfer sauteed veggies to a food processor or blender and pulse until almost paste-like. Pour into a bowl and mix in the Eggs, Worcestershire Sauce, and Oat Flour.
Add in the Black Beans and mash them with a fork, leaving some larger chunks of Beans for texture.
Form into balls using about 1/3 Cup of mixture for each. You should end up with 6 and any leftover mix can be spread into each of the balls. Form the balls into patties then transfer patties to a baking sheet lined with parchment and bake at 375 degrees for 10 minutes on each side, flipping them will help both sides get that crispy texture.
Use the Lettuce Leaves to wrap 2 of the patties for your meal. Allow the rest of the patties to cool completely, then wrap them individually with plastic wrap and freeze for up to 3 months. Reheat the frozen patties in the oven, microwave, air-fryer, or even on the grill!